HEAL NH Conference Early Bird registration now open
Leadership for Policy and System Change: Working together for equitable access to healthy food and opportunities to be active 
is the theme for this year's HEAL NH Conference, to be held on Friday, October 1 at the Grappone Center in  Concord.  The keynote speaker is Bill Purcell, former mayor of Nashville and current Institute of Medicine committee chair.  He will talk about
Leadership for healthy, economically vibrant communities. 
More »
Plan NH to conduct a community planning and design charrette in Laconia August 28 and 29
On Friday and Saturday, August 28 and 29, a team of Plan NH members and others will gather with Laconia Planner Shanna Saunders and her team to hold a community planning and design charrette. Building on the extensive work that the City has been doing with the Orton Family Foundation, and in conjunction with an economic development project currently in place,  Plan NH will look at the downtown, Lakeport (and Union Ave.) and the Weirs sections of the City and make[...]
More »
Meet the DOT Chiefs of Northern New England Sept 17 over breakfast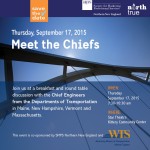 More »
Ecological Design 101 workshop August 13
August, 7th, 2015
Plan NH is pleased to present a FREE workshop,
Building Community Resilience:  learning to serve our built and social infrastructures though ecological design. 
NH's own Steve Whitman will lead this introductory session on building community resilience though ecological design. It IS possible to create communities that are more resilient to severe weather and other outside forces - while retaining their  distinct characters. Informed by a  holistic desig[...]
More »
Shifting our mindset as we think about planning to age in place
July, 22nd, 2015
In December of 2014, we 
blogged about the Tri-State Conference on Aging
,  which we had attended.  Since then, we have been invited to be part of an emerging coalition of diverse people and organizations  that is taking a collaborative approach to address aging in New Hampshire – an effort of the Center on Aging and Community Living (CACAL) at UNH and the NH Endowment for Health.   Robin LeBlanc, Executive D[...]
More »
North Branch Purchases Tax Credits for CATCH Neighborhood Housing
July, 22nd, 2015
(Concord, NH)  Earlier this year, North Branch Construction, Inc. completed the construction of Bow Highlands Phase II in Bow, NH. Bow Highlands Phase II, owned by CATCH Neighborhood Housing, provides sixteen units of workforce housing. North Branch is also pleased to contribute a $19,900 donation to CATCH through the Community Development Investment Program. This program is designed as a fundraising tool for nonprofit community development organizations, coopera[...]
More »
Getting There has first screening in June
July, 22nd, 2015
Getting There,  a film by Matt Frost and produced by the NH Planners Association, was shown in June to about 100 invited guests at the Red River Theatre in Concord.  The film is a documentary about what it's like to get around in our communities while being visually impaired.  Nashua's own Randy Pierce, who went blind at 40 and just completed the Boston Marathon earlier this year, was a featured guest.   Plan NH provided a portion of the fundin[...] More »
2015 Plan NH Scholarship and Fellowship recipients awarded over $30K
July, 22nd, 2015
On Thursday, June 11, in partnership with the NH Charitable Foundation, Plan NH announced and honored this year's recipients of Scholarship or Fellowship Awards, the aggregate value of which exceeded $30,000. Students must call New Hampshire home and may be studying in an accredited program related to our mission anywhere in the world. The following are in this year's "class":
Meredith Borgioli of Hollis, studying Landscape Design at NHTI
More »
Professional Services Delivery in a Digital Age
July, 1st, 2015
July 9, 2015 6-9 p.m. at the Red Hook Brewery Click on the following for more information:
Same-piscataqua.org
More »
ECKMAN RECONSTRUCTING DOWNTOWN NASHUA PARKING GARAGE
June, 5th, 2015
Bedford, NH, June 2015 –
Eckman Construction is providing design-build services for R.J. Finlay & Co. to reconstruct the existing parking structure at 30 Temple Street in Nashua. The building currently features an open-air parking deck to go along with an underground garage structure [...] More »