Merit Awards
2017 Plan NH Merit Awards
Please join us for the Annual Awards Evening and Dinner June 21st 2017 at the Derryfield in Manchester.
Exceptional projects earning 2017 Merit Awards will be announced
Register: http://bit.ly/PlanNHAwardsEvening
Doors Open at 5:30.
Plan NH believes that what we build, where we build, and how we build have an influence on the health and vibrancy of a community.
One part of our mission is to raise awareness of that link – within professionals in the building industries, and within communities themselves.
The annual Plan NH Merit Awards Program  recognizes New Hampshire projects that reflect the Mission of Plan NH, and incorporate Smart Growth and Livability principles, social responsibility, and creative approaches to collaboration and cooperation.
Submitted nominations are reviewed by a Committee of diverse professionals, and outstanding projects are selected to receive an Award.
2016 Merit Awards
At a dinner held on June 22, 2016 at the Derryfield Country Club in Manchester, the following were recognized for 2016: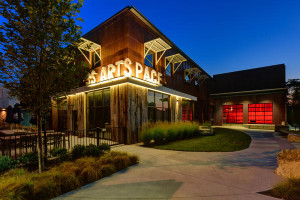 Honorable Mention: 3S Artspace, Portsmouth.   This project turned a former manufacturing site into New Hampshire's first non-profit, multi-disciplinary art space, which incorporates a performance space, an art gallery, and farm-to-table restaurant.  Concrete and asphalt exteriors became landscaped with green, native plantings, sidewalks and outdoor dining, all of which provide an outdoor social area within an urban environment.   Evening usage gives an after-hours vibrancy, which in turn increases safety to this part of the North End of Portsmouth's Historic District.
Jury comments:  This was a great adaptive re-use project, with a different approach to the  "mixed-use" concept.  There were a lot of constraints to get around, and the entire project   involved a great deal of social collaboration.   The after-hours "eyes on the street"  is a welcome addition to that corner of town.
Owner:  3S Artspace.  Key players:  McHenry Architecture, Summit Engineering, terrafirma  landscape architecture, and Wright-Ryan Construction.
Photo:  Clear Eye Photo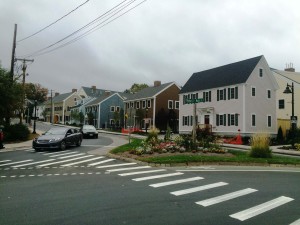 Merit Award: University Edge, Durham.   Off-campus housing for UNH students is always a challenge, and this project successfully provided not only 52 full-amenity apartments (88 beds), but also 8800 sf of commercial space – all while maintaining the integrity of the compact, historic nature of the neighborhood where it was built.
The owner chose to preserve and restore two old buildings, which has resulted in a seamless flow between  the old and new along this section of the street.  A larger building at the back of the site was deliberately designed to appear smaller.  These considerations, along with the incorporation of trees and architectural details, means that the integrity of "traditional Durham" has been maintained.
The project was designed intentionally to encourage and support walking and bicycling to and   from campus, underscored by providing only four parking spaces.  Environmental integrity is supported though efforts such as rain gardens and permeable pavers.
" ..Density by design is really about the solution to development with the least adverse effect, this project is representative of what is possible." (from the nomination materials)
Jury comments:  This is a truly impressive example of how redevelopment in our communities should be happening.   Here, new, dense development fits into the existing fabric of a traditional neighborhood – by hiding mass, and keeping, through design and preservation,  the look and feel of what has been there for a long time.  Both the streetscape and the human scale  were well-preserved.  In fact, the area is much more pleasant than before, but one does not notice right away that there is  something new here.  Both the location and the "plaza"  within   the complex promote walkability.  The functionality of this project is what stands out, and it has "set the bar to which everyone else must now achieve."
Owner:  Orion Student Housing.  Key players:  Allen & Major, Fulcrum Associates, NE Earth Mechanics, Wozney Barbar & Associates, and The Dolben Company.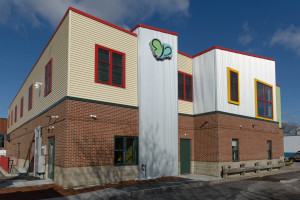 Honor Award: The Family Place Resource Center and Shelter, Manchester.  Families in Transition (FIT) has been providing emergency, transitional and permanent housing for homeless and low-income families in Manchester, Concord and Dover for twenty years.   In response to the current statistic that 43% of the homeless population in New Hampshire are families, FIT purchased the former Manchester Community Resource Center of Lake Avenue to develop their new Center.
Besides housing 11 families, the Center provides educational, employment and clinical services to support homeless and low-income populations within the community. The causes of homelessness are deep and myriad, and FIT has invited numerous partners to use the facility to provide on-site services to address the unique circumstances of each client.
The site for this was carefully chosen:  it is accessible by foot, bicycle, and by multiple bus routes to and from Manchester's center.  The Lake Avenue side reflects the urban character of the street, while the back of the building used clapboards to reflect the residential character of that side.   Over $2 million was donated for construction, and today, almost 40 volunteers contribute regularly to provide meals, assist in programs and in the pre-school and more.  This volunteerism "highlights how this project has successfully convened Manchester residents around the issue of homelessness and engaged residents in being part of the solution."
In the words Mayor Ted Gatsas:  [this Center] is about helping people to get back on their feet and move into our society and into our community."
Jury comments:  This is a shining star in a tough neighborhood – both in reality and metaphorically.  FIT  is not only talking about what we don't want to talk about, they are doing something about it.  Here, they then went above and beyond by providing a "one-stop shop" for its clients, having all fundamental services in one place, including emergency homes.
It is obvious that FIT cares not only about its clients, but cares and respects the neighborhood in which it provides its services.  Fabricating parts of the construction off-site to minimize disruption was remarkable.  How it developed an existing building, with an eye to its context, enhanced the fabric of the neighborhood and could be an inspiration for others.   The design and construction teams clearly worked together to provide a beautiful solution for FIT and one that will be an example for so many for years to come.
Owner:  Families in Transition.  Key players:  Great Bridge Properties; Dennis Mires, PA, The Architects; Keach-Nordstrom Associates;  Sheehan, Phinney, Bass and Green; and Hutter Construction Corporation.
Photo:  John Hession.